Vaccinations for COVID-19
The UK's largest vaccination campaign is underway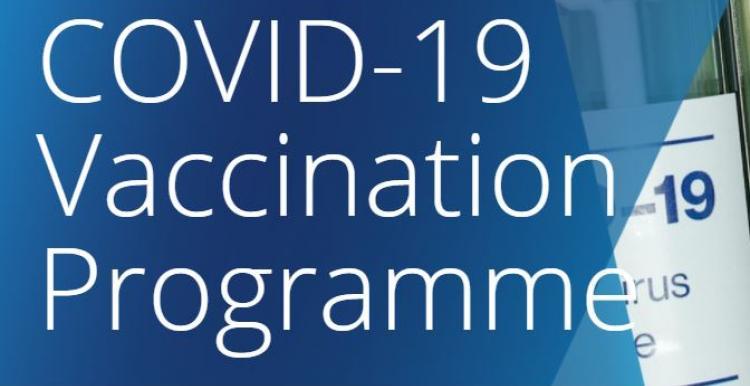 I am 83 and had my vaccination on the 9th January at the County Oak medical centre, Carden Hill. My husband is 82. It was very easy and very well organised. I received a text from my GP inviting me to have the vaccine and offering me a choice of times. My husband and I both had morning appointments. We drove and parked there. The queue was very short and well managed. We had our details checked and were quickly into a cubicle for the vaccination. Afterwards we rested for 15 minutes in a separate area. We were socially distanced at all times and surfaces were cleaned in the waiting area after use. It felt very safe at all times and all the personnel were very pleasant, kind and patient. Neither of us has had any side effects. We are grateful.
This webpage is being regularly updated. On this page you will find information about:
1. Key messages for everyone.
2. Links to Frequently Asked Questions, and other sources of information.
3. Details of vaccination scams to look out for.
4. Details of the roll-out of the vaccination. This includes information on GP sites, hospital hubs, large vaccination centres, and roving vaccination services.
5. Priority groups identified for vaccination
6. What to expect at your appointment, and how you will be contacted.
7. Information about the vaccines, and their effectiveness.
8. How Brighton and Hove Healthwatch is helping, and how to contact us with your questions.
1. KEY MESSAGES FOR EVERYONE
We all have an important part to play:
please do not contact the NHS, including your GP, to seek a vaccine, they will contact you. It will help the booking process to have your NHS number to hand;
when you are contacted, please attend your booked appointments;
once you have had your first vaccination you will receive a further appointment to receive the second dose, and
please continue to follow all the guidance to control the virus and save lives. 
3. SCAM ALERT 
We are aware that some people are receiving fraudulent calls and text messages offering the COVID-19 vaccination. In some cases, people are asked to press a number on their keypad or to send a text message to confirm they wish to receive the vaccine. Doing so is likely to result in a charge being applied to their phone bill. In other cases, callers are offering the vaccine for a fee or asking for bank details. People are warned to be alert to these scams. 
The vaccine is only available from the NHS and the NHS will contact you when it is your turn. The NHS will:
NEVER ask you to press a button on your keypad or send a text to confirm you want the vaccine.
NEVER ask for payment or for your bank details.
If you receive a call you believe to be fraudulent, hang up. If you believe you have been the victim of fraud or identity theft you should report this directly to Action Fraud on 0300 123 2040. Where the victim is vulnerable, report it to Sussex Police online or by calling 101.
4. ROLL OUT OF THE VACCINE IN BRIGHTON and HOVE
There are a number of ways in which the vaccination is being rolled out to our communities. Some further information is contained in the attachment at the end of this page:
A GP-led vaccination service is where many of those who are in the first priority groups living in our local community will initially receive their vaccination. This involves groups of local GP practices working together to provide the vaccination to their collective patients at one location. This means that you may not receive the vaccination at your local GP and you may be required to travel to a different location nearby. All GP practices in the city are involved.
Hospital hubs – local hospitals across the country have begun giving the vaccine to people over 80 who are attending for a planned appointment and frontline health and care staff. You will only receive your vaccination in this way if you have an outpatient or inpatient appointment at your hospital.
Roving service –  GP-led services and the Sussex Community NHS Foundation Trust have been taking the vaccine to residents and staff in care homes for older people in recent weeks. Great progress has been made on this and the city is on track to have visited all  care homes within the next few weeks.  That means there will soon be more roving services available to vaccinate those over 80s who are housebound.
Large vaccination centres – each county will have one large vaccination centre which will be able to give the vaccine to large numbers of people. The Brighton Centre opened as a vaccination centre on 25th January.  Vaccination centres are larger facilities with many more vaccinations taking place at once. They are located with good transport links and serve a much wider population. However, just like GP-led services, the vaccination centres are still focused on the same priority cohorts. At present that remains is the over 80s, with the over 70s and clinically extremely vulnerable to follow shortly. Please see the attachment at the end of this page for more information about the Brighton Centre.
In addition, we are expecting the first community pharmacy-led vaccination services in Sussex to come online by the end of January as more vaccine supplies come on stream. High street stores capable of delivering large volumes while allowing for social distancing are initially being selected to give the best geographical spread.
Hospital hubs
Hospital hub vaccination services in Sussex were launched at the Royal Sussex County Hospital in Brighton on 8th December 2020. Hospital hubs are at:
Health and care workforce vaccinations

All health and care workers are invited to book a vaccination at one of the hospital-based vaccination sites across Sussex.

Click here to access the booking links which are located towards the bottom of the webpage
At a GP led vaccination service
All GP practices should display clear information on their websites about the vaccination roll-out. Current GP vaccination services are available at:
Brighton Racecourse for patients at Albion Street Surgery, Allied Medical Practice -  School House Surgery and Church Surgery, Arch healthcare, Ardingly Court Surgery, Beaconsfield Medical Practice, Broadway Surgery, Park Crescent Health Centre, Pavilion Surgery, Preston Park Surgery, Regency Surgery, Saltdean and Rottingdean Medical Practice, Ship Street Surgery, Stanford Medical Centre, St Luke's Surgery, St Peter's Medical Centre, The Avenue Surgery, The Haven Practice, Warmdene SurgeryWellsbourne Healthcare CIC, Woodingdean Medical Centre
County Oak Medical Centre for patients at Brighton Station Health Centre, Carden Surgery, Montpelier Surgery, Seven Dials Medical Centre, University of Sussex Health Centre
 Portslade Health Centre for patients at Brighton Health and Wellbeing Centre, Benfield Valley Healthcare Hub, Charter Medical Group, Hove Medical Centre, Links Road Surgery, Mile Oak Medical Centre, Portslade Health Centre, Trinity Medical Centre, Wish Park Surgery
Please DO NOT contact your GP surgery.  You will be contacted when it is your turn to receive the vaccine. 
If you have not yet been approached about having the COVID-19 vaccination, please read the information: why you are being asked to wait. 
Large vaccination centres 
The Brighton Centre opened as as vaccination centre on 25th January. You can watch a short video which explains what to expect if you are invited to have your vaccination at the Brighton Centre. Please click here
Prioritisation of care homes
GP-led local vaccination services and Sussex Community NHS Foundation Trust are visiting care homes for older people to vaccinate residents and staff.  The intention is to offer the vaccine in all care homes by mid-February 2021, subject to vaccine supply, with all care homes with residents over 65 years old scheduled for vaccination by the end of January.  In Brighton and Hove there are 92 homes who will be contacted individually to arrange vaccination visits.
5. THE ORDER IN WHICH PEOPLE WILL GET THE VACCINE
You will be contacted by the first NHS service that is able to offer you a vaccination. This may be your GP, one of the hospital hubs, or another NHS service.
In summary
Vaccinations are being prioritised, with those most at risk of complications from COVID-19 being offered the vaccine first.
During January, the NHS will continue to vaccinate people in the first two priority groups which includes residents and staff in care homes for older adults, all those aged 80 years and over, and Health and social care workers.
The over 70s and clinically extremely vulnerable will follow shortly.
A phased roll out is underway, which will take time. Timing will be dependent on manufacturing timescales and supply of vaccines.
The Government has published information about how groups will be prioritised here.
Currently, the Government has said that those in the top 4 groups will start to receive their vaccinations. After this, vaccination will continue to roll our to other priority groups in order of age and risk.
This priority list is as follows:
This follows advice from the Joint Committee on Vaccination and Immunisation (JCVI).
residents in a care home for older adults and their carers
all those 80 years of age and over, and frontline health and social care workers
all those 75 years of age and over
all those 70 years of age and over and Clinically extremely vulnerable individuals. 

all those 65 years of age and over

all individuals aged 16 years to 64 years with underlying health conditions which put them at higher risk of serious disease and mortality. The Pfizer-BioNTech vaccine is authorised in those aged 16 years and over, and the AstraZeneca and Moderna vaccines are only authorised for use in those aged 18 years and over.  Priority Group 6 also includes those who are in receipt of a carer's allowance, or those who are the main carer of an elderly or disabled person whose welfare may be at risk if the carer falls ill. 
all those 60 years of age and over
all those 55 years of age and over
all those 50 years of age and over
Everyone else
The vaccine is currently being given to residents and staff in care homes for older people, people aged over 80, and health and care workers, before being rolled out to the rest of the population in order of age and risk. Once services have vaccinated the majority of people in these cohorts in their areas, they now have the flexibility to offer vaccinations to the next two cohorts – those aged 70 and over and clinically extremely vulnerable people.
Timings of the vaccine roll-out
The government has stated it's plan for: 
the first vaccine dose to be given to all those in the top 4 priority groups by 15th February
the intention is to vaccinate all care homes by mid-February 2021, subject to vaccine supply, with all care homes with residents over 65 years old scheduled for vaccination by the end of January.
all adults to be offered a vaccine by the autumn
Information about the roll-out in different formats are available at the bottom of this page.
6. ATTENDING YOUR APPOINTMENT
Advice on traveling to have your vaccine
Under the national guidance, it is permissible to receive a lift from someone.
There are also community transport providers offering this support in terms of transport for medical appointments. You can find information about community and non-emergency transport on the Brighton and Hove City Council website.
Brighton City Cabs are offering free taxi travel to those aged 80+ to get to their vaccine appointment at Brighton racecourse. You must live within the Brighton boundary (Longridge Ave, Saltdean - Portslade). Brighton City Cabs will also cover the return trip. 01273 205205 to book
How you will be contacted
You will be contacted by the first NHS service that is able to offer you a vaccination. This may be your GP or the national booking service.
GPs will invite their patients to get vaccinated at their local GP-led vaccination service (see above).
Appointments at  vaccination centres are made through the national booking service.
You may be contacted by telephone, by letter, or by SMS/text message.
If you miss a call to offer you the vaccine you will remain on the list and the practice/team will contact you again.  If they cannot get through to you by telephone they will contact you by letter.
For the second booking you will receive a text and/or an email. This will confirm the date and time of your next appointment. You should receive this confirmation at time of leaving, or usually within an hour thereafter.
Anyone receiving a letter from the national booking service can choose whether to book an appointment at the vaccination centre, or wait until they are contacted by their GP for an appointment at their local vaccination service if that would be more convenient. The letter contains all the details you will need to book your appointment.
If you receive two invitations, you can choose which is more convenient for you. In time, as more vaccination centres come online, there will be more options available through the national booking system. 
What to expect at your appointment
You will be asked to attend the same site to receive both vaccinations. 
You will be given two doses of the same vaccination (i.e. 2x Pfizer or 2x Oxford or 2x Moderna). You cannot ask to choose one type of vaccine over another. They are all effective.
You will be screened for potential allergic reactions before getting vaccinated. All vaccinators will have the training they need to deal with any rare cases of adverse reactions, and all venues will be equipped to care for people who need it.
After you have received the vaccine you will be given a card or paper indicating the date of your vaccination, type of vaccine and batch.    
Your GP will automatically be informed that you have been vaccinated.
7. THE VACCINES
The UK government has set out how it intends to build up a supply of vaccines, and deploy them in the UK COVID-19 vaccines delivery plan and the vaccines delivery plan.  Their aim is to deliver at least 2 million vaccinations per week by the end of January at over 2,700 vaccine sites across the UK, with tens of millions of people immunised by the spring 2021. By the end of January, everyone in England will be within 10 miles of a vaccination site or, for a small number of highly rural areas, the vaccine will be brought to them via mobile teams.
The UK has secured early access to 367 million doses of 7 of the most promising vaccines so far. To date, three vaccines have been approved for use by the Medicines and Healthcare products Regulatory Agency (MHRA):
Pfizer/BioNTech. The UK has ordered 40 million doses, enough to vaccinate up to a third of the population, with the majority of doses anticipated in the first half of 2021. 
Oxford/Astra Zeneca vaccine. The the UK has ordered 100 million doses. Read more about this vaccine by clicking here. The vaccine began its roll out on Monday 4th January 2021. Initially this will be in hospitals only to allow medical professionals to observe the first doses. After that, roll out will be extended.
Moderna.  This works in a similar way to the Pfizer one. Supplies of the new jab are expected to be available in the spring 2021. The UK has pre-ordered 17 million doses.
Other vaccines are in different stages of development, and it is hoped that others may also be approved for use.
All three vaccines will be given in two doses. 
We have produced a short guide to the different vaccines which is available at the end of this page.
HOW EFFECTIVE ARE THE VACCINES?
Short-term vaccine efficacy from the first dose of the Pfizer-BioNTech vaccine is calculated at around 90%

Short-term vaccine efficacy from the first dose of the AstraZeneca vaccine is calculated at around 70%, with high protection against severe disease

The vaccines offer considerable protection after the first dose has been given, but full protection should begin one to two week after the second dose.
8. HOW HEALTHWATCH BRIGHTON AND HOVE CAN HELP
We are working with the local NHS and other services as they prepare to roll out the COVID-19 vaccination programme in Brighton and Hove.
This includes helping them to clearly communicate what is happening to local people and making them aware of any questions or issues that arise.
We know that there are lots of questions about both the vaccines and how they will be delivered. We have already shared your questions with those responsible for the roll-out of the vaccine.
Please tell us send us any questions that you may have and we will do our best to find the answers for you. This will help NHS staff to focus on delivering the vaccine and protecting local people.
Answers to most frequently asked questions will be shared on our website and social media. We will share these with the NHS, to help them deliver the vaccine and protect local people. For answers to Frequently Asked Questions please click here.
FURTHER INFORMATION AND RESOURCES
Please visit the Sussex Health and Care Partnership website
For answers to Frequently Asked Questions please click here.
Some further information is available via these links:
Translated resources
Click here to access translated materials about the vaccine
Additional guides
BECOME A VOLUNTEER
NHS Commissioners are asking for volunteers to become Vaccination Champions to help the NHS in Sussex raise awareness of the COVID-19 vaccination. If you would like to find out more please visit their website. 
Contact details:
WRITE TO: NHS West Sussex Clinical Commissioning Group, Wicker House, High Street, Worthing BN11 1DJ                
WEBSITE: https://www.sussexhealthandcare.uk/get-involved/covid-19-vaccination-champions/
TELEPHONE: 0792 024 4988 or 07881 501 356
EMAIL: sxccg.involvement@nhs.net
Vaccinators and Volunteer Stewards
The NHS is currently looking for volunteers to help with our COVID-19 Vaccination Programme. 
Role Specifications:
They are also looking for trained vaccinators and people who we can safely train to be vaccinators. Job opportunities to help support the COVID-19 vaccination programme are listed online. 
The NHS has been overwhelmed by applications since launching this recruitment campaign. Thank you for patience if you have applied and are still waiting to hear from, you will be contacted shortly, but do get in touch by email sc-tr.mvrecruitment@nhs.net 
For further information on COVID-19, including symptoms, testing, and data, please click here to visit our dedicated Healthwatch webpage.