Carers Week 6—12 June 2022
This year there will be a Carers Festival in Brighton and Hove to celebrating the role of unpaid carers in our city.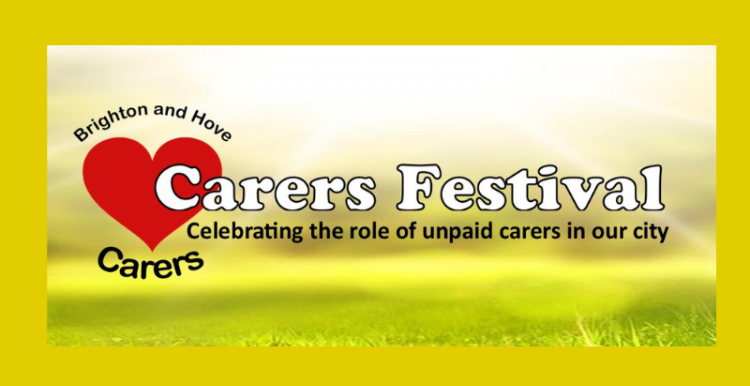 Careers week festival  6—12 June 2022
Carers Week is an annual campaign to raise awareness of caring, highlight the challenges unpaid carers face and recognise the contribution they make to families and communities throughout the UK. It also helps people who don't think of themselves as having caring responsibilities to identify as carers and access much needed support. The Sussex Carers Partnership understands how crucial it is to work together and involve unpaid family and friend carers, in the design and delivery of local carers' support services.
About Making Carers Count
Making Carers Count is led by Carers Trust and delivered in partnership with its network of partners (local carer organisations) and Carers UK. The project will run until March 2024. 
To celebrate Carers week this year, numerous activities are planned around Brighton and Hove to celebrate the role of unpaid carers in our city
St Augustine's Arts & Events Centre, Stanford Avenue, Brighton, BN1 6EA - Thursday 9th June 2022 - 12.30pm – 5pm
A free afternoon of information, activities and entertainment, showcasing all that is on offer to Family/Friend Carers in Brighton & Hove
With stalls from: Carers Hub, the Carers Centre, Crossroads Care, Changes Ahead, NHS, Amaze, Brighton & Hove Council Carer Assessment Workers, Grace Eyre, Age UK, Specialist Community Disability Service, Ageing Well Partnership, Impace Initiatives, Hop 50+, Food Partnership, Healthy Lifestyles Team.
Free Tea, Coffee and Cake (while stocks last)
Plus many more….
Wellbeing at Carers Center for brighton & hove
Tai Chi & Qi Gong - Every Monday, 11am via Zoom,

Monthly Meditation Group - Every 2nd Thursday of the Month, next on Thursday 16th June 2022 10.30—11.30am via Zoom

Carers' Wellbeing Walking Group - Usually Last Wednesday of the month. Contact 01273 977000 or email info@carershub.co.uk
Groups at Carers Center for Brighton & hove
Creativity and Self Care for Carers :Designed in collaboration with the Carers Centre by Carers with lived experience, this course is an opportunity for Carers to set time aside for themselves and engage in activities which can enhance their wellbeing. Course Length: Six Sessions :11am—1pm Thursday 9th, 16th, 30th June & 7th, 14th, 21st July. To find out more about this course and for course registration information, please visitwww.southdown.org/recovery-College-brighton-hove

Carers' Book Club - Every second Tuesday of the Month via Zoom

Music Appreciation Group - Every Third Thursday of the Month  via Zoom
To join any of our groups or activities or to find out more, including support to help access Zoom
please contact 01273 977000 or email info@carershub.co.uk
Online Meetings at Carers Center for Brighton & hove
Carers' Weekly Coffee & Chat - Every Wednesday 10.30 am, via Zoom
LGBTQ+ Carers Peer Support - Usually first Friday of the Month, 11—12 noon via Zoom,
Carers who are supporters of people with mental health challenges - Changes Ahead Coffee Meet Up - Every 2nd Monday of the Month, 10 am - 12 noon via Zoom
Learning Disabilities and/Autism Carers Peer Support Group - Coffee Meet Up - Monthly, via Zoom, next on Monday 30th May 2022, at 11am
Working Carers (& Employers) Peer Support  Coffee Meet Up - Usually last Wednesday of the month, via Zoom Next on Wednesday 25th May at 6pm
please contact 01273 977000 or email info@carershub.co.uk
Carer Opportunities at Carers Center for Brighton & hove
Why not join the Carers Voice - normally meet every 3 months to discuss issues and research that relate to carers in the city.
For more information and to find out about taking part in upcoming sessions, please email steve.castellari@thecarerscentre.org or call 01273 977000.
Carers Legal Clinic are offering a monthly legal clinic here at The Carers Centre - Now taking bookings. If you would like to take advantage of this service, don't hesitate to call or email us to book an appointment on 01273 746222 or email info@thecarerscentre.org
To join any of our groups or activities or to find out more, including support to help access Zoom
please contact 01273 977000 or email info@carershub.co.uk