Enter and View Report: Preston Park Recovery Centre
This report was part of a combination of six reports, by combining all six reports they will create an overall report which will be shared with the council, looking at how people would like to spend their time in our local social care services.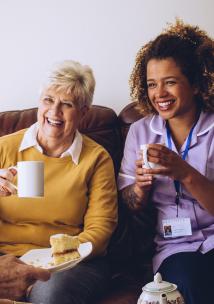 Preston Park Recovery Centre is a large building which has spaces for eating, treatments, art and quiet space. Southdown Housing has recently updated their services, and chosen to focus the former day centre space in to being a more holistic recovery centre.
Results of Visit 
Spending time with other people 
The people that we spoke to who used the Preston Park Recovery Centre all felt that the staff were friendly, but some felt that they were sometimes too busy with admin duties to engage properly with service users.
Some felt that staff (rather than volunteers) taking key roles, meant that they could get to know the people who run the centre very well.
Our reps observed staff acting in an approachable and friendly manner with the service users. Interaction seemed to be largely based around the activities, and there were examples of staff reassuring and encouraging service users. 
Things to do 
Activities were promoted well throughout the centre. The reception area had information about a large array of courses and activities that were available, with leaflets for external organisations and seasonal trips.
Our reps were told that each new person receives a booklet detailing all of the activities available.
The wide range of materials from around the city fitted well with the centre's ethos of recovery in the community, and the people who visit the centre spoke highly of the range of courses available.
The fact that many courses were drop-in also helped people to attend without commitment.
Overall
The people who spoke to us about the Preston Park Recovery Centre gave it an average of 8 out of 10 for providing activities that people would like to keep them busy and socialising.
When asked about things to improve at the centre, a number of people referred to issues with access to the computers when activities were taking place in that room, and technical issues with the Wi-Fi connection.
Others felt that the centre was not open for long enough when they would like some extra support, and had fears about the future funding of the centre.
Transport to the centre was also a concern for those who lived further away from the centre.