Healthwatch Brighton and Hove - Annual Report 2017
Our annual report for the period 2016/2017, highlighting the views of the people of Brighton & Hove, and the hard work of our volunteers, staff and board throughout the year.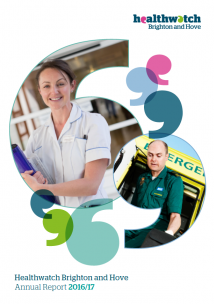 Summary
In the last year our work has continued to be dominated by the NHS agenda, with our local hospital and the ambulance service being put into 'special measures' by the Care Quality Commission (CQC), the official health and care regulators.
In addition, the number of GP practices in the City has reduced by about 12% and the Brighton and Hove Clinical Commissioning Group (CCG), the NHS body that determines what services are available in the city was identified by NHS England as one of the worst performing CCG's in the Country.