Reports on Patient Experiences of local NHS Trusts
Two reports on the patient experience and physical environment at Brighton & Sussex University Hospitals NHS Trust and Sussex Partnership Foundation Trust.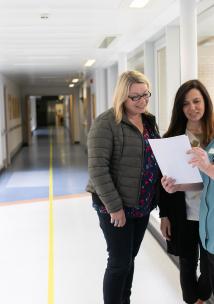 Summary
Two reports on the patient experience of local NHS trusts:
An annual review of our environmental audits at Brighton and Sussex University Hospitals NHS Trust (BSUH), showing continued improvement for patient experience and the physical environment.
Our five year review of Patient-Led Assessments of the Care Environment (PLACE) results for 2013-2018 for BSUH and Sussex Partnership Foundation Trust (SPFT), highlighting improvements, but also where further work is required.
Annual Review of Healthwatch Environmental Audits
Since December 2016, we have worked in partnership with our local Trust to conduct monthly visits to the BSUH estate which includes the Royal Sussex County Hospital (RSCH) and Royal Alexandra Children's Hospital (RACH). 
These monthly visits are called Environmental Care Audits ("audits").  Today we published the second annual report which summarises the key findings from the audits which were undertaken from April 2018 to March 2019.
Between April 2018 to March 2019
Our volunteers undertook ten separate monthly audits across the BSUH estate.  This included wards and clinics at the Royal Sussex County Hospital.
We provided BSUH with 220 recommendations or suggestions for how the environment of our local hospitals might be improved.
The Trust was able to implement 160 (74%) of our recommendations. Others were not practical or possible for various reasons.
Three of the ten audits we conducted were to areas of the Trust that we had not visited before. The remaining seven audits were revisits which involved our volunteers comparing current ward environments against historical data. During these audits our volunteers observed tangible improvements across many wards.
A historic review of PLACE results 2013-2018 for BSUH and SPFT
PLACE audits are arranged by the NHS, not Healthwatch. However, we are routinely approached by two of our local Trusts to help conduct these important assessments, working alongside other volunteers and some NHS staff.
The PLACE reviews are held annually and are managed nationally, and the findings are analysed by NHS Digital. PLACE provides a framework for assessing the quality of Trusts against six common standards:
Cleanliness
Food and hydration
Privacy and dignity
Condition and maintenance
Meeting the needs of those living with dementia
Meeting the need of those living with a disability
This is the first time that we have undertaken an analysis of the PLACE results.
This work has revealed the general upward trend in scores being achieved by both Trusts, but has also served as a useful tool to highlight those areas which require additional attention. We have been able to raise its concerns directly with senior staff and has been reassured by the response of both Trusts.
Main findings for BSUH
Between 2013 and 2017, BSUH improved its scores across a number of standards, particularly for 'cleanliness' and 'maintenance, condition and appearance' (see Annex C of our report for more detail). In 2018, scores for some standards fell unexpectedly and the Trust has already moved swiftly to implement a range of measures to improve things, including the creation of the Food Improvement Group and publication of its dementia strategy.
In January 2019 BSUH was deservedly taken out of special measures with the CQC rating the Trust as 'Good' overall.
In 2018, a number of the six sites which constitute the BSUH Trust achieved high PLACE scores notably for their 'cleanliness' and 'condition, maintenance and appearance' and their success is to be applauded:
The Sussex Orthopaedic Centre increased their scores across five standards
The Royal Alexandra Children's Hospital (RACH) increased their scores across three standards
The RSCH and the Sussex Eye Hospital either maintained or slightly increased their scores across two standards.
Healthwatch shares the BSUH senior team's disappointment in the overall PLACE scores achieved in 2018. We agree that these scores do not reflect all of the hard work that has gone in to improving the environments of all six sites. 
In 2018, the PLACE scores achieved across the six sites varied considerably, and the lower than expected scores achieved by the Princess Royal hospital has unfortunately affected the overall BSUH averages. 
Once again, the Trust has already started work to tackle any shortfalls and we look forward to seeing improved scores following the completion of PLACE 2019 which we understand will occur later this year.
Main findings for SPFT
Between 2013 - 2018 the Trust improved its scores across all six standards.  SPFT's overall 2018 PLACE scores are to be applauded and their success is mirrored by the findings of their latest CQC report. 
The 2018 PLACE results reflect the outcomes of twenty individual site assessments, with the majority of these posting very good results. Healthwatch supported the Trust to complete two site assessments at Mill View and Rutland Gardens.
Healthwatch would like to acknowledge the improvements achieved by Mill View Hospital. Their scores increased in 2018 for the areas of 'condition, appearance and maintenance', 'food and hydration', dementia' and 'disability' standards.
Although SPFT's overall score for the 'food and hydration' standard remained very good, we note that there has been a small year-on-year reduction since 2015. In addition, the current score is the lowest ever achieved by SPFT.
Healthwatch is concerned by some of the poor results recorded by Rutland Gardens, which is one of two sites that we helped to assess. The scores for the 'privacy, dignity and well-being' and 'disability' standards both dropped by over 30% when compared to 2017.   These were also the lowest scores out of the twenty SPFT sites visited for PLACE 2018. These are significant and worrying decreases.  Healthwatch has already raised these with SPFT who have indicated that they are investigating the reasons for these falls.