Putting good communications with patients at the heart of service change (November 2021)
This Healthwatch report is a summary of a review of patients' experiences of being referred for an outpatients' appointment. It showcases the core standards that patients themselves recommend should be applied to all the communications.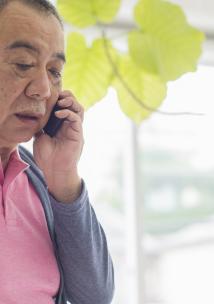 In the aftermath of COVID-19, waits for appointments and tests will be with us for the foreseeable future. This is recognised in the NHS. The improvements summarised in this report would assist people who are waiting for an appointment. If people know what is happening to them, where else to go for help and when, it helps them to not only manage their condition, but their life. By moving towards the best practice exemplified in this report not only would it be a better experience for patients, but it would help the NHS achieve some of their aspirations to transform services
Healthwatch heard from 53 patients with contemporary experience about the communications they had received after being referred for an outpatients' appointment. This is what they told us:
"The big problem is that you do not get any confirmation that your referral has been accepted and where you are in the system. I just assumed the basics had been done."
52% were dissatisfied or very dissatisfied with communications, or lack of them

Most were referred by their GP, but GPs did not consistently provide them with information about their referrals

57% were not notified that their referral had been sent off

61% were not notified that their referral had been received by the hospital

Only a third of patients had chosen not to chase up their referrals to find out what was going on.
We spoke in detail to 8 people to gather in-depth feedback. These case studies highlighted both good and poor examples of communications and led us to  review some genuine letters , texts and online messages that had been sent to patients. These showed that some parts of the referral system deliver good communications, but other examples highlighted that urgent improvement is needed.
Findings and recommendations
Our key finding is a lack of consistency in patient communications that must be addressed if every patient is to have a 'good' experience and  'wait well' .
Our 7 recommendations support work being done by Sussex NHS Commissioners to transform outpatient services and to embed other initiatives that are intended to support patients such as 'waiting well' and 'patient initiated follow ups'. NHS Commissioners have already agreed that they can help improve patient communications.
1. Sussex NHS Commissioners and University Hospitals Sussex NHS Foundation Trust (UHS) should create and sign up to a Patient Communication Charter and publish this. The Charter, consisting of a series of core standards, should be underpin the production of all future patient communications.
2. Commissioners should implement a system which ensures that alerts by text or email are sent out from all GP practices to patients confirming that a referral has been sent off (within 3 working days of the GP appointment).  Similarly, patient notifications must always be sent from the UHS booking hub (or medical specialties) to confirm that a referral has arrived within 3 days of it being received.  All texts and emails must come from a standard or recognisable number / address which is in itself easily identifiable.
3. Commissioners should work with providers of services to publish honest, accurate and easily accessible data on waiting times for every specialty; and these must be routinely updated each month. All data should be produced using a consistent methodology and reflect urgent and routine waiting times.
4. Commissioners should establish a Board or Working Group that includes local Healthwatch, which has a specific brief to improve all patient communications. The Board/Group should map out a standard outpatient journey to identify the key points at which patient communications are needed. A common and agreed set of principles about how, when and in what format patient communications need to be delivered should then be agreed.
5. Commissioners should work with providers of services and Healthwatch to review patient letters to improve and standardise their content. All letters must be written with the patient in mind and always explain the "what, why, when, where, who, how, and how long the process will take".   All patient letters should be scrutinised by patients – the people they are intended for - to sense and language check. All letters connected with a referral will appear on the patient's online "My Health and Care Record" and NHS App.
6. More should be done to promote the NHS App and 'My Health Care Record' and to support patients to use these so that they receive timely information about their referrals which can be accessed at their convenience.
7. Commissioners should establish a mechanism to measure the success of any system changes that are implemented as a result of our recommendations. This data should be used to identify where changes are not happening so that targeted support and guidance can be provided e.g. those specialties or GP practices who are not routinely updating patients.
There is nothing worse than not knowing especially when you have something that you are anxious about and that is causing discomfort. It leaves you in a state of anxiety and tension and you feel you are not being heard. As a patient you feel you have no control. If you feel you are not being listened to followed by no communication, it makes you feel you do not matter.
What next?
We have shared our report with Sussex NHS Commissioners and those responsible for delivering the transformation of outpatients' services who agree that our findings and recommendations are important and necessary 
We have also shared it with those in charge of Planned Care and Cancer services.
Our findings have been presented and discussed at several high-level NHS Trust Boards, and welcomed.
Our recommendation to create a Working Group with a specific remit for delivering improved patient communications is already being implemented.
Healthwatch will continue to work with Commissioners and our NHS Trust to implement the remainder of our recommendations.
"We absolutely value the engagement expertise and insight that Healthwatch brings to our work, ensuring that the voice of patients and our local communities are heard and at the heart of all we do. This report is very much welcomed as we work to further improve the communication with patients as they are referred for treatment and as they wait for that treatment. It is vital that this insight continues to shape the initiatives being developed to improve that support and put patients in control of their own healthcare wherever possible. This report will be used to further develop initiatives such as shared decision making and patient initiated follow up, as well as specific work to consider patient letters, communication when people are waiting, and how people are contacted by services at the time of their appointment."