Report: Patient Opinion in East & Central Brighton Primary Care Network
Our latest report looks at the how local residents feel about the services they received at the East and Central Brighton Primary Care Network.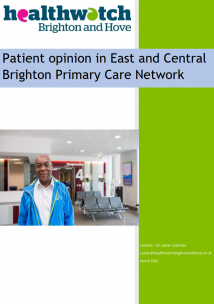 Summary
We conducted a cross-sectional survey of the East and Central Brighton Primary Care Network (PCN) during October and November 2021. 
Note: East and Central PCN 1 and 2 merged in April 2021. 
A total of 1845 people responded from the GP practices located in this area.
Headline findings include:
In terms of screening service awareness and use, the highest proportions were for cervical cancer screening (39%), breast cancer screening (32%), bowel cancer screening (28%) and health checks for people aged 40-74 (28%).
Only around two-thirds of women were using the screening service for cervical cancer from age 25 (68%) and for breast cancer (64%) from age 40.
Although 10% of those aged 25 or over were unaware of cervical cancer screening, a further 23% were aware but had not used the service.
18% of women aged 40 and over were unaware of breast cancer screening although a further 18% were aware but had not used the service.
The leading service preference within the community, reported by around three-quarters of people, was for general wellbeing checks (73%) and blood tests (72%). Over 50% of people were interested in health checks for people aged 40-74 (66%) and blood pressure checks (58%).
Just under one-half of the sample (46%) had received support for an emotional or mental health condition (including from friends or family members). Younger people and a greater proportion of women (52%) had received support compared to 39% of men.
Most people (56%) had not used an online booking form to make an appointment with their GP.
The main reason for not using the online booking system was being unaware that such a service was available (33%). The other common reason was wanting to phone the surgery.
This opposition to online booking appears to be an issue of personal preference rather than people lacking the technology and skills. Only 8% rated their ability to use online technology as 'poor' or 'very poor'.
Using some questions as proxy measures of digital exclusion, the group most digitally excluded are older people, relative to younger people.
10 recommendations are added.