Social care: What is in the new plan?
Find out what's in the Government's new social care plan and how it compares with what people have told us.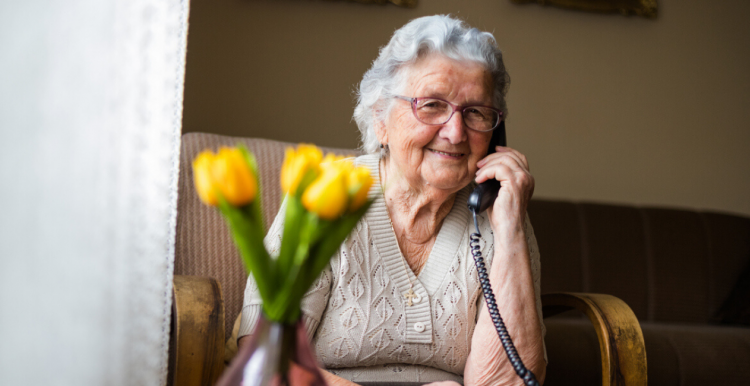 The Government has published its ten-year vision for adult social care, with funding covering the next three years and further plans on improving social care over the next decade.
We take a look at seven issues the white paper covers and how this compares with what people have told us would make social care better.
1. Better advice
Our research shows that people don't always understand what social care is, who provides services, how care is paid for, their rights, or who they should turn to for help. Awareness of social care is also low, and the public wants access to trusted, independent local sources of information on social care.
What is changing?
The white paper announces a communications campaign and new website to explain reforms to the public. A pilot to provide more personalised social care advice is also promised, along with new systems to help people compare local providers. 
Our view
The news that £5,000,000 in funding will go to local organisations to test new ways of providing personalised advice about social care is welcome. Under the current system, too much is expected of the public to find out how services work and get the right guidance from councils and other sources. We look forward to working with Government to develop services that identify, reach out to, and advise people with social care needs.
---
2. Help for carers
Our evidence highlights that unpaid carers are often unaware of their rights to carer assessments. Carers can also find accessing reliable information and advice about local services challenging. People looking after loved ones have also told us that they only start looking for help when they reach a crisis point. Any delay in accessing support at this point can have a massive impact on their health and wellbeing.
What is changing?
Along with the proposed information and advice improvements, people in employment who provide unpaid care to a loved one will now be eligible for five days of unpaid leave per year. Funding has also been allocated to kick-start a change in the support services provided to carers.
Our view
The aspiration to improve the advice you can access if you are a carer is welcome. If well managed, unpaid carers should find accessing information, advice and ultimately support easier than they do now. However, while we wait for more detail on long-term changes, unpaid carers need more immediate support to take the breaks they need and find the help their loved ones need.
Our response to the plan
Commenting on the plan, our Director of Communications, Campaigns and Insight, Chris McCann said: 
"There is much to welcome in this social care white paper, which should be seen as a positive step towards building a more accessible and personalised social care.

"The focus on funding extra supported housing, caring for more people in their homes and better digital services has potential to improve the quality of services and help people access the support they need to live independently in the place they call home.

"We're also pleased to see a greater focus on giving people better access to information and advice about care options, and in particular the funding for local organisations to pilot new ways of providing personalised advice. This will make it easier for people with care needs and their carers to find trusted, local sources of information and support.

"But this is only the start of the journey. In terms of how care is paid for and in line with our five key tests for reform, the Government needs to ensure access to funding and charging arrangements are fairer, more affordable and more transparent. For example, including state contributions in the metering towards an individual's cap would protect more people from the potentially devastating impact of personal care costs.

"We look forward to supporting the development of services which do more to identify, reach out to, and advise people with care needs."
3. Financial support
For years, charging thresholds as part of financial assessments have led to many with moderate or low assets paying for social care themselves. And with no limit – or 'cap' - on the costs they might pay, those with long-term care packages or those living in residential care have experienced catastrophic costs from self-funding their care and accommodation.
What is changing?
Financial assessment charging thresholds have changed: the level determining whether an individual is eligible for state support towards social care has increased from £14,250 to £20,000.
The sliding scale where people are eligible for some state support towards care costs has also changed from £14,250-£23,250 to £20,000-£100,000. And there will be a limit on the amount a person will have to pay towards personal care over their lifetime. This cap will be £86,000. However, any state contributions will not count towards an individual's £86,000 cap.
Our view
Raising the lowest financial thresholds from £14,250 to £20,000 to ensure people who are less well-off have better access to financial support from their council for care is welcome. However, in line with our five key tests for reform, more could be done to ensure that the costs counted towards someone's 'cap' are fairer, more affordable and more transparent. For example, including council funding contributions when measuring an individual's progress towards their 'cap' would protect more people from the potentially devastating impact of personal care costs.
---
4. Social care assessments and reviews
People regularly contact our local Healthwatch services about issues they face with financial assessments for social care, care assessments, and care plan reviews. Problems with financial assessments often concern transparency around local funding changes, sometimes leading to last-minute increases in the cost of your care.
Issues with care assessments relate to unclear eligibility criteria and living without support. And from previous research into the care of people with dementia, we found that only 45% of people received their annual care plan reviews. Without reviews, too many people receive the wrong level of support due to outdated care plans which did not meet their needs.
What is changing?
The plan sets out an ambition for the health regulator, the Care Quality Commission (CQC), to play a more significant role in regulating local authorities to determine how they meet people's needs. 
Our view
The white paper does little to directly address the issues people face with social care assessments and reviews of their plans. However, the broader principles in the Government's plan describe a vision for more personalised social care. We hope that Government, local authorities and the CQC can work together to ensure people have better access to care and are supported while waiting for an assessment or a review.
---
5. Quality of care
You've told us that services could offer greater personalisation, consistency and quality in how they support you. Communication could also be improved, along with more opportunities to go and socialise or do leisure activities. Where things go wrong, you want easy and more informal ways to comment on quality issues you have to make a complaint. Our research also shows that councils could better learn from complaints instead of just reporting the number of people complaining.
What is changing?
The Government has committed funding to help local authorities offer a wider variety of supported housing options. There is also funding for digital solutions that aim to support people to live independently. And finally, an extension of the Disabled Facilities Grant aims to help more people who need to adapt to their homes.
Our view
People want social care support that enables them to live independently in the place they call home. The introduced measures are a positive first step in improving the quality of services, provided more funding is allocated over the longer term.
---
6. Workforce
You've told us of overworked and burned out care workers, and national data shows a high staff turnover across social care. The loss of skilled professionals affects the quality of care provided to people, and the subsequent workload is detrimental to the health and wellbeing of the remaining staff. 
What is changing?
The white paper announces investment to attract more people to work in social care, provide more training opportunities and better mental health support.
Our view
As the plan is focused on principles to improve the system over ten years, there is little to address more immediate issues of low pay and high staff turnover. The Government's recruitment schemes must be successful if the vision set out in the white paper is to be delivered over the short and long term.
---
7. Meeting people's needs
Understandably, discussions about social care reform have often focused on those already in the system who are getting support rather than those who need help but don't access care. These people with 'unmet needs' might not access social care for different reasons, such as:
a lack of advice about local services,
not knowing that social care can help them,
not meeting the eligibility criteria during an assessment for care, or
issues with affordability following financial assessments.
Based on our previous research, unmet needs also affect unpaid carers who are often unaware of their rights to assessments and support.
What is changing?
The Government's plan notes a lack of data and evidence about whose needs are not being met or only partially met. The paper also references issues with how different people and organisations define what counts as 'unmet need.'
Our view
There needs to be a plan to improve the quality of data in the social care sector to understand better unmet needs and the obstacles to getting care people face. We have also kicked off a project to shine a light on the experiences of people living with unmet social care needs.  We plan to share the findings with the Government so that policymakers can find solutions to make sure everyone can access the support they need.