Healthwatch Brighton and Hove - Annual Report 2022
We release our Annual Report covering the period to March 2022, which highlights the work and achievements over the past year.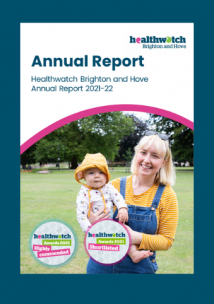 "Healthwatch has continued to make a significant difference to the way in which services are delivered in the city, drawing together insight on challenges and barriers people face across health and care services in our city, whilst constructively challenging delivery plans to ensure they meet the needs of our population, and helping to ensure there is clear and accessible information for residents." ​
Highlights this year
71 amazing volunteers contributed 6,722 hours of their time to support our work - an incredible 282 days!
20 reports published, and 62 recommendations made to improve health and social care  - based on your feedback shared with us.
72 newsletters and bulletins issued and over 1200 social media posts giving you information and updates about services and COVID-19.
50 news articles shared on our website.
We helped:
400 people who contacted us via our helpline.
2603 people discharged from hospital.
1400 people with their COVID-19 related queries.
Overall, we engaged with nearly 9000 people this year!
We attended:
1080 health and care meetings about health and social care services and COVID-19.
Awards!
Two of our projects were shortlisted for national awards by Healthwatch England - our Hospital Discharge project and our work on improving End Of Life Care.
Our Hospital Discharge project was "Highly Commended"
Both projects recognised the amazing contribution that our volunteers had made.
"Without the tireless energy and enthusiasm of our volunteer support, the quality of our work would be severely compromised. For this we raise our collective hat and salute our volunteers - not just during Volunteers Week, but for every day of the year!"​