Hospital Discharge Wellbeing Project (HOPs) Update - April 2020 to Jan 2022
Our latest report on the HOPs project, which was started as part of the city's COVID-19 response - a collaboration between us, the council and the hospital trust.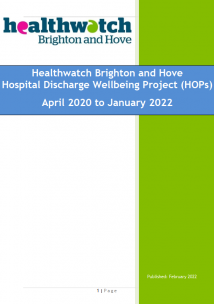 The Hospital Discharge Wellbeing Service (HOPs) was developed as a collaboration between Brighton and Hove City Council and local NHS, as a response to COVID-19.
The project is a wellbeing service for people when they get home after a stay in hospital. Our volunteers contact them to explore if there is anything outstanding linked to their hospital discharge that needs to be followed up if required with hospital discharge team if needed. They also ask if there are any other community, voluntary and private sector services that might benefit your wellbeing. You can read more about the service here: 
Healthwatch Hospital Discharge Wellbeing Service (HOPs)
This report covers the project from when it started in April 2020 to January 2022.
Summary
6530 people have been referred to the project
4279 allocated to volunteers for phone contact
2404 successful contacts = 56%
1874 people we could not reach,
857 attempted but unsuccessful calls –
992 referrals had wrong information, or we were unable to contact for other reasons; patient in a care home or deceased, readmitted to hospital
At any one time around 100-150 referrals will be active, in the hands of volunteers or waiting to be allocated to volunteers.
Average of 204 referrals passed to volunteers each month.
681 people (30%) had concerns, and 542 (23%) were referred for some additional community support
553 (23%) of people had some issue or concern related to their hospital discharge